Health
Coronavirus: More may need to self-isolate to stop spread – NHS boss
Many more people may be forced to self-isolate as part of efforts to stop the coronavirus spreading in Britain, the head of NHS England has warned.
Sir Simon Stevens said more than 80 people discharged from quarantine on Thursday set an "important example".
Meanwhile, officials are tracing the contacts of the ninth person in the UK to test positive for the virus.
It is understood the woman went to hospital in an Uber, but the driver has been told he is not at risk.
The new case – announced on Wednesday evening – is the first to be identified in London after she contracted the virus in China.
She "self-presented" at the A&E department of University Hospital Lewisham on Sunday 9 February, hospital chief executive Ben Travi said.
It is understood that she arrived in an Uber, but the driver was traced and told there is no risk because the journey took less than 15 minutes.
Mr Travi said the patient was immediately given a mask and escorted to be tested in a dedicated area outside the A&E building. After that, she was assessed further in an isolation room in the emergency department.
"In line with our protocols, throughout their care, the patient was escorted and did not come into contact with other patients," he said. She was later discharged and taken home by ambulance.
All staff who had contact with the patient have been contacted, and two are undergoing "active surveillance" at home for 14 days on the advice of Public Health England, Mr Travi said.
On Wednesday, the test came back positive and she was taken for treatment at a specialist unit at Guys and St Thomas' hospital that evening.
'Contain, delay, research, brace'
Meanwhile, more than 80 people who stayed in accommodation at Arrowe Park Hospital for two weeks have left after testing negative for the new strain of coronavirus.
They are one of two groups of British nationals evacuated from Wuhan, with the second quarantined near Milton Keynes.
Sir Simon thanked those in quarantine for being "responsible, pragmatic and stoical" during their isolation in nurses' rooms at Arrowe Park.
"They have set an important example, recognising that over the coming weeks many more of us may need to self-isolate at home for a period to reduce this virus's spread," he said.
Matt Raw, one of those quarantined on the Wirral, said as he left the accommodation block: "It is absolutely lovely to be out and I'll no doubt be going out for a pint a little bit later."
And an unsigned note placed onto a window at the facility read: "I was a little anxious as to how I would be received. I needn't have been… You made us feel welcome."
Health Secretary Matt Hancock expressed his gratitude to those leaving Arrowe Park on Thursday and said people "can be reassured that their departure presents no risk to the public".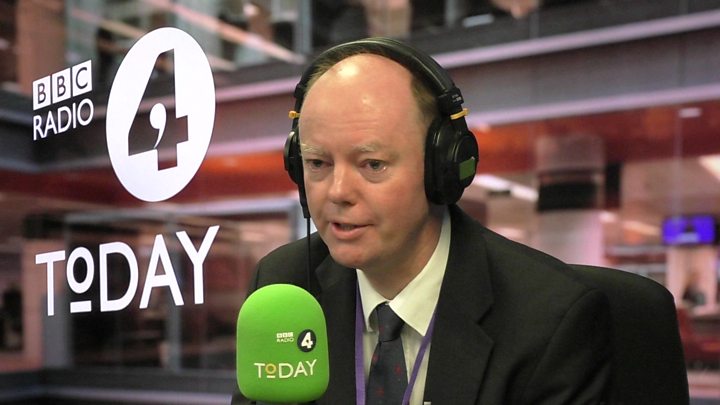 Prof Chris Whitty, England's chief medical officer, told BBC Radio 4's Today programme it was hoped China "gets on top of the epidemic".
But he said that containment and isolation remain the focus for medical teams – and that work was now under way to establish how to delay any potential outbreak in the UK.
He said: "We basically have a strategy which depends upon four tactical aims: the first one is to contain; the second of these is to delay; the third of these is to do the science and the research; and the fourth is to mitigate so we can brace the NHS."
Prof Whitty added: "If we are going to get an outbreak here in the UK – and this is an if not a when – then putting it back in time, into the summer period away from the winter pressures on the NHS, buying us a bit more time to understand the virus better, possibly having some seasonal advantage, is a big advantage."
How can you 'delay' the coronavirus?
If the new coronavirus does become a pandemic – a global epidemic – then it is going to hit the UK eventually.
It becomes a bullet you cannot dodge, but you can delay getting hit.
Some of this is already taking place.
Identifying and isolating patients – then tracing people they have come into contact with – are designed to stop the virus getting a foothold in the UK.
In the future, experts may consider travel bans to limit the number of imported cases and closing schools to minimise the "super-spreading" effect kids have in outbreaks.
Even a brief delay could be a big advantage – if the NHS is not overwhelmed by flu, norovirus and other winter bugs then the health service is more likely to cope.
More time also means more research on the most effective ways of dealing with the virus.
And summer – due to the effect heat and sun may have on the virus and our own behaviour – could limit spread.
The hope remains that the coronavirus will be dealt with in China and will not become a pandemic.
On Wednesday, British businessman Steve Walsh, one of the nine UK cases of coronavirus, left hospital having fully recovered – posing "no risk" to the public.
He was the third case of the virus to be confirmed in the UK, following two Chinese nationals testing positive in York.
Mr Walsh contracted coronavirus on a business trip to Singapore and unknowingly passed it on to 11 other people – five then returned to the UK, two of whom worked as GPs.
A total of 1,750 people in the UK have tested negative for the virus, which causes the disease now known as Covid-19.
On Wednesday, there was a sharp increase in the number of new cases diagnosed in Wuhan and the surrounding province, Hubei, Read More – Source