Tech
Handheld 3D skin printer could heal deep wounds
Scientists have invented a handheld 3D skin printer that prints thin layers of tissue to cover and heal deep wounds.
Researchers from the University of Toronto believe that it is the first device that forms tissue, deposits and sets it in place in under two minutes.
Their work on the device and how it could help severe burn victims was recently published in the journal Lab on a Chip.
It could eventually be used instead of skin grafts for patients with deep skin wounds that affect all three layers of the skin: the epidermis, the dermis and the hypodermis.
Split-thickness skin grafting is the established medical method to deal with large wounds, but it requires enough healthy donor skin to cover the whole wound – something which is not always available.
There are a large number of tissue-engineered skin substitutes, but they are not currently used in clinical settings.
Associate professor Dr Axel Guenther, who worked with the PhD student Navid Hakimi under the supervision of Dr Marc Jeschke, said the medical requirements were too much for those substitutes however.
"Most current 3D bioprinters are bulky, work at low speeds, are expensive and are incompatible with clinical application," Dr Guenther said.
The team believe their handheld device can overcome these barriers as it weighs less than a kilogram and requires minimal operator training.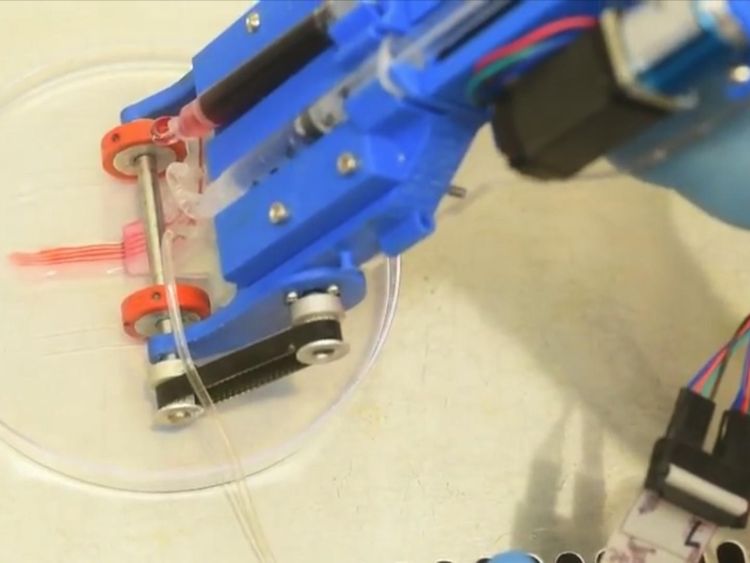 It resembles a white-out tape dispenser, but instead of tape there is a tiny device which forms tissue sheets.
There are vertical stripes of "bio ink" which is composed of protein-based biomaterials. Collagen, the most abundant protein in the dermis, and fibrin, a protein involved in wound healing, run along the inside of each tissue sheet.
More from Science & Tech
"Our skin printer promises to tailor tissues to specific patients and wound characteristics," said Mr Hakimi. "And it's very portable."
In the future the device could be used to cover differently sized wound areas, and the team hopes that one day they can begin clinical trials on humans.