Tech
New 'phone boxes' spark privacy concerns
If you live in London or Leeds, you may have already spotted one on a street corner near you.
At just under three metres tall, and with two large LCD advertising displays, the imposing aluminium structures are hard to miss. They're called InLinks and are billed as the payphone for the smartphone generation.
Behind the shiny facade are four powerful computers, allowing the InLinks to offer calls, ultrafast WiFi and USB charging. All for free – paid for by advertising.
"It's intentionally not like any other phone box," explained Matt Bird, general manager of InLinkUK. "There's no box, no door – because they're no longer needed. And we've designed it to be modular, so we can keep chopping and changing the technology that's inside."
The model was picked by BT last year as an off-the-shelf replacement for the old phone box and marks the first time the company hasn't opted for a bespoke design. Unlike its predecessors, the InLink was actually designed for New York by a company called Intersection, backed by Google owner Alphabet.
Since the kiosks were first installed in the Big Apple in 2016, they have met opposition from privacy campaigners.
One group calling itself Rethink LinkNYC has complained about the amount of personal data they gather. While other protesters have objected to the units three built-in cameras by covering them with tape.
While the British unit isn't identical to its American cousin, the privacy concerns have followed it to this side of the Atlantic.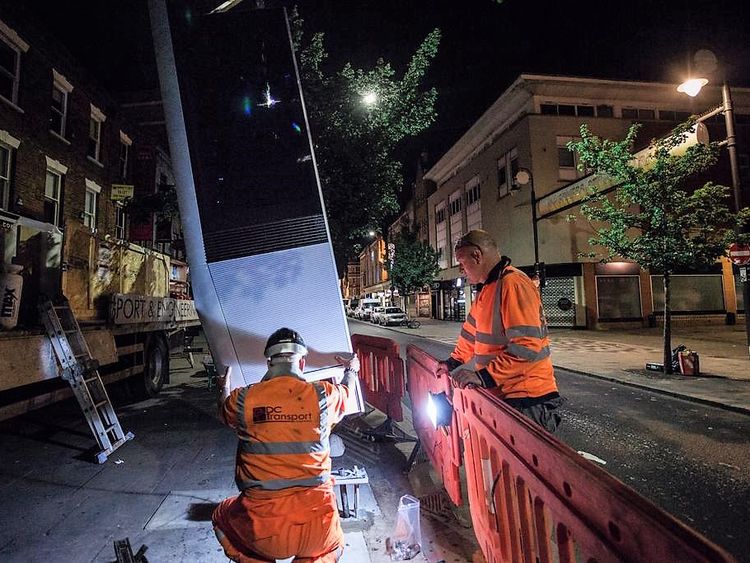 In a letter sent to Wandsworth Council in December 2017 one campaigner argued that there was "far too much latitude for the applicant to adapt these kiosks… into a street-level mass surveillance system with the potential to cause serious harm to the public".
Ross Atkin, a street furniture designer who specialises in the Internet of Things, is calling for better oversight.
"It feels like communities just don't have control over what's happening. Once planning permission has been given for a kiosk it's there and the community has no way of controlling what data it's gathering and what it's used for," he said.
"I think we need to change the planning system in the long run so that it's able to deal with connected devices in public spaces but I think in the short term, we need to stop installing these kiosks."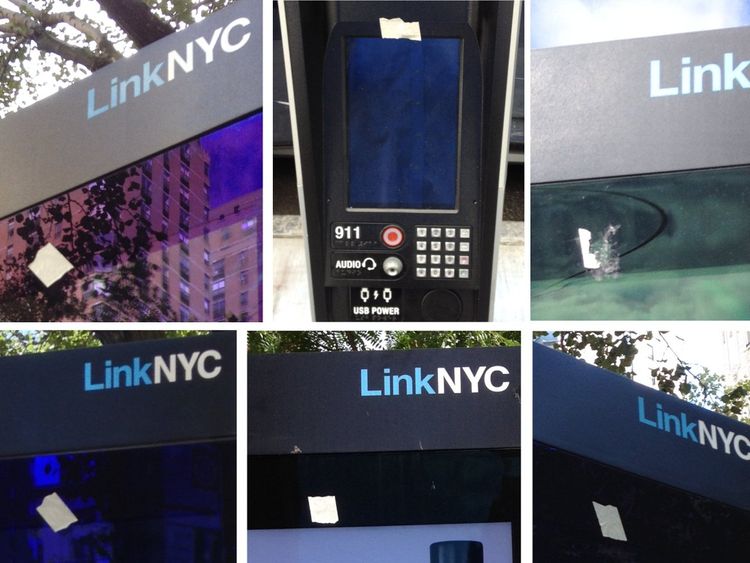 InLinkUK told Sky News they've learned lessons from the American launch and are keen not to repeat the same mistakes here.
"We have no interest whatsoever of tracking individuals, whether it's on WiFi or other means. We care about utilising data for good," said Mr Bird.
"The built-in cameras are turned off, while we try to think about the best use for them for community good."
Most of the phone boxes being replaced aren't the classic red design, as many of those are listed. But InLinkUK admits some may be removed, if the local council agrees.
Nigel Linge, co-author of The British Phonebox, told Sky News that the new InLinks offered "function over design" but that younger people "probably wouldn't be fussed" about the demise of the old phone box.
"The younger generation are more likely to see the red phone box as an icon of this country than something they'd actually want to use," he said.
"But for a certain generation, who can remember a time when even having a phone in your home was a rarity, the phone box was also an essential element of your daily life and part of your local community."
More from Science & Tech
So far 135 InLinks have been installed in London and Leeds, with Glasgow due to get its first kiosk in the next few months. The consortium in charge of the rollout hopes to install 1,000 across the UK by the end of the year.
That compares to 33,000 conventional BT phone boxes – half of which lose money.