Politics
Russia to suspend nuclear, rocket cooperation with America, ban US tobacco & alcohol – draft law
Russian lawmakers have drafted a bill suspending cooperation with US companies in the nuclear, missile and aircraft-building spheres, as well as introducing restrictions on imports of alcohol and tobacco produced in the US.
"The bill is about alcohol and tobacco products and about ceasing or suspending international cooperation in the nuclear sphere, rocket engine building and aircraft building between Russian companies and organizations under US jurisdiction," one of the bills sponsors, MP Ivan Melnikov (Communist Party), was quoted as saying in the State Dumas Twitter message.
Read more
"The bill charges the government and top officials in Russian regions with the task of developing mechanisms to replace US goods and services on the Russian market. We expect this to become a push for the development of the Russian economy," Melnikov said.
The bill, which follows the latest round of US sanctions on Russia, was drafted on Friday jointly by State Duma speaker Vyacheslav Volodin and the heads of all four parliamentary caucuses.
The lower house will have the first discussion on the bill and work out the schedule for passing it on Monday, said MP Aleksandr Zhukov (United Russia).
"At least, we are giving an adequate reply to the United States of America. We are stopping the cooperation with the USA in three very important spheres: the nuclear industry, the aircraft building industry and the rocket engine industry," the head of the Fair Russia party, Sergey Mironov, said.
The head of the Liberal Democratic Party of Russia, Vladimir Zhirinovsky, added that the import restrictions on US goods and services would not be applied to purchases made by individuals, but rather on wholesale batches.
Read more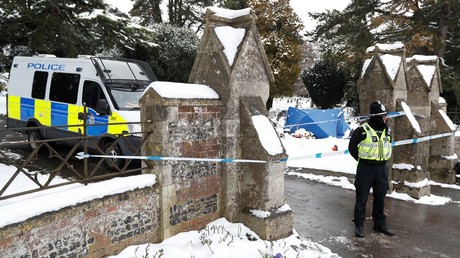 On April 6, The US Treasury Department released a list of 24 Russian citizens and 14 Russian corporations that fall under new sanctions imposed over Russias foreign policy. Earlier this week, Prime Minister Dmitry Medvedev said that Moscow will ban imports of US goods as part of a response to Washingtons latest move.
"These can be not only American securities… but also a whole range of other goods that are delivered to the Russian market or produced by American businesses on the territory of our country," Medvedev said, answering questions from the Russian State Duma on Wednesday.
READ MORE: Russia will stop exporting titanium to Boeing if legislation adopted – Russian senator
The prime minister stated that Moscows response to new sanctions should be adequate and measured. "Response measures should be well-calculated, should not harm ourselves, they must be adequate," he said.
On Friday, Vladimir Putins press secretary, Dmitry Peskov, told reporters that Kremlin officials have not studied the State Duma proposal on reciprocal sanctions in detail, but said that "it is possible to assume with confidence that any measures that will be taken would not hurt Russias national interests."