News
Breitbart Jerusalem – Latest News | Breitbart
Syrias Permanent Representative to the U.N. Dr. Bashar al-Jaafari called the United States a "monster … who sponsored terrorism" throughout the Middle East during a session of the Security Council on the situation in Syria on Tuesday.
byAdelle Nazarian11 Apr 2018, 8:02 PM PDT0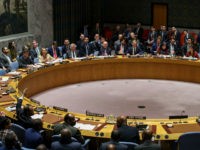 Russian representatives at the United Nations Security Council vetoed a resolution proposed by the U.N. to open an inquiry into the Syrian governments alleged use of chemical weapons.
byBen Kew11 Apr 2018, 6:31 PM PDT0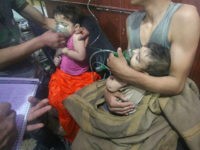 As the United States and its allies contemplate military action against Syria for gassing its own people, Syria is poised to chair the United Nations committee responsible for banning chemical weapons.
byMichelle Moons11 Apr 2018, 6:00 PM PDT0
The World Health Organization published a statement on Wednesday saying it was "deeply alarmed" by reports of chemical weapons deployment in Syria. WHO said it has received reports from partners in the Douma area that roughly 500 patients have been treated for symptoms consistent with toxic exposure, while over 70 deaths were reported from the attack, 43 of them apparently caused by toxic chemical exposure.
byJohn Hayward11 Apr 2018, 11:25 AM PDT0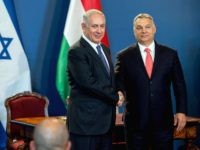 Notably, the first foreign leader who called Hungarian Prime Minister Viktor Orban to congratulate him for his decisive victory in Hungarys parliamentary elections Sunday was Israeli Prime Minister Benjamin Netanyahu.
byCaroline Glick11 Apr 2018, 9:37 AM PDT0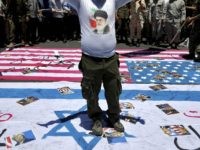 Perhaps the next time we hear another hateful comment about the Holocaust from an Iranian official, we can remind ourselves of the two pre- and post-revolutionary Irans.
byJacqueline Saper11 Apr 2018, 9:35 AM PDT0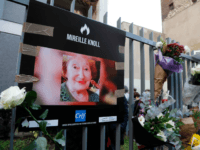 The mother of one of the two suspects arrested in the anti-Semitic murder of 85-year-old holocaust survivor Mireille Knoll has been arrested after police suspect she may have attempted to tamper with the weapon used to stab the pensioner to death.
byChris Tomlinson11 Apr 2018, 8:31 AM PDT0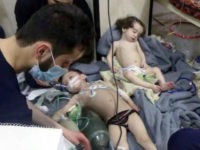 TEL AVIV – The U.S. envoy to the UNs disarmament conference slammed the decision to have Syria preside over its coming session, saying the Assad regime does not have the "credibility or moral authority" for such a role.
byDeborah Danan11 Apr 2018, 8:29 AM PDT0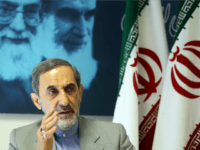 TEL AVIV – The IDF has been put on high alert after Iran threatened to retaliate for the airstrike in Syria attributed to Israel that killed at least 14 people, including seven Iranians.
byDeborah Danan11 Apr 2018, 8:27 AM PDT0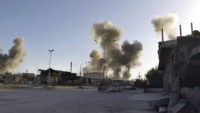 TEL AVIV – The airstrike on Syria attributed to Israel targeted an air base built by Iran and with the knowledge of Russia, constituting the "most significant direct attack" to date, Israels Channel 10 reported on Tuesday night. "All the
byDeborah Danan11 Apr 2018, 8:24 AM PDT0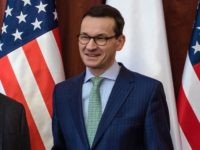 Polands restrictive Holocaust law must be abolished so that misunderstandings can be addressed honestly and Polish-Jewish relations can improve.
byShmuley Boteach11 Apr 2018, 8:21 AM PDT0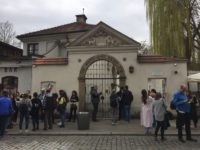 Polands second city welcomed thousands of visitors Wednesday ahead of Yom HaShoah, or Holocaust Remembrance Day, on Thursday as participants in the annual "March of the Living" memorial gathered in the town.
byJoel B. Pollak11 Apr 2018, 8:11 AM PDT0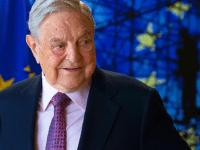 NEW YORK — A progressive group founded by former leaders of the far-left MoveOn.org organization are planning a training session with hundreds of Democratic candidates for major office, advocating messaging that pushes a public health care option for all Americans
byAaron Klein11 Apr 2018, 6:15 AM PDT0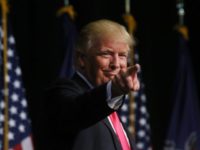 President Donald Trump issued a threat on Twitter against Russia, warning them that missiles from the United States were directed at Syria.
byCharlie Spiering11 Apr 2018, 4:37 AM PDT0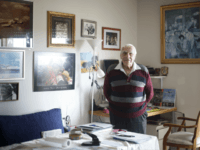 KFAR SABA, Israel — While most of his fellow Jews were being killed or brutalized in Nazi death camps and ghettos, Baruch Shub and his friends were hiding in the forests of the former Soviet Union, trying to undermine the Nazis by derailing trains, burning bridges, sabotaging communication lines and killing the occasional collaborator.
byBreitbart Jerusalem11 Apr 2018, 3:45 AM PDT0
JERUSALEM – The Israeli army said it fired at unspecified Hamas "military targets" in Gaza on Wednesday after a Palestinian bomb attack on an army engineering unit working inside the Hamas-ruled territory.
byBreitbart Jerusalem11 Apr 2018, 2:41 AM PDT0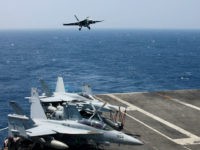 WASHINGTON — US President Donald Trump faced a decision on whether to strike Syria and risk a clash with Damascus ally Russia, after UN members failed Tuesday to agree on action to probe chemical attacks in the war-wracked country.
byBreitbart Jerusalem11 Apr 2018, 2:32 AM PDT0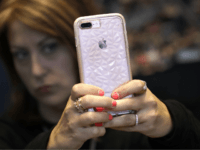 Apples failure to tell consumers that its software could slow performance in some iPhones has sparked Israels consumer protection agency to launch its own investigation.
bySimon Kent11 Apr 2018, 2:01 AM PDT0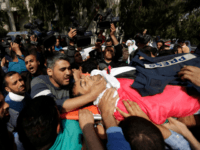 Defense Minister Avigdor Liberman on Tuesday said a Gaza journalist who was reportedly killed by Israeli gunfire over the weekend was a member of Hamas.
byBreitbart Jerusalem11 Apr 2018, 1:44 AM PDT0
UK Labour Party leader Jeremy Corbyns poor response to anti-Semitism charges and his "hostility" to the Jewish community has led to the Israeli Labor Party cutting all ties with its British counterpart.
bySimon Kent11 Apr 2018, 1:04 AM PDT0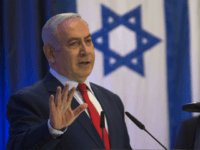 TEL AVIV – In comments that appeared to refer to the Syria missile strike attributed to Israel, Prime Minister Benjamin Netanyahu said Monday that the Jewish state will retaliate against anyone harboring aspirations to harm his country.
byDeborah Danan10 Apr 2018, 10:18 PM PDT0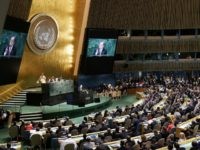 TEL AVIV – The UNs disarmament conference on chemical weapons will be presided over next month by Syria, despite the ruling Assad regimes repeated chemical attacks on its own citizens, the most recent occurring on Saturday and resulting in the deaths of at least 42 people.
byDeborah Danan10 Apr 2018, 10:17 PM PDT0
Iranian Foreign Minister Mohammad Javad Zarif claimed on Tuesday that the United States and Israel are "boosting the morale" of Syrian opposition groups in Syria, which he referred to as "terrorist groups," as well as the Islamic State (ISIS, Daesh).
byAdelle Nazarian10 Apr 2018, 3:27 PM PDT0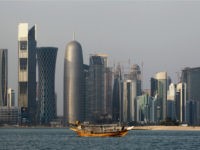 Saudi Arabia and its United Arab Emirates ally are reportedly planning to turn the region along the border they share with Qatar into a nuclear waste dump, further deepening the rift between the countries.
byEdwin Mora10 Apr 2018, 7:55 AM PDT0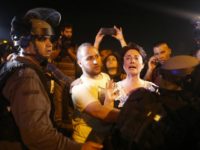 TEL AVIV – Arab Knesset member Haneen Zoabi (Joint List) said that Israel is "looking for an excuse to kill the Palestinians" and called on Palestinians to "march on Jerusalem" in support of the violent Gaza protests. She made her comments at a press briefing at the United Nations headquarters in New York.
byDeborah Danan10 Apr 2018, 7:23 AM PDT0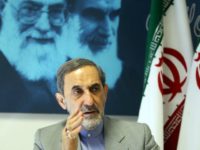 A senior Iranian official threatened Israel with retribution, warning its airstrike on a Syrian air base that killed seven Iranians "will not go unanswered."
bySimon Kent10 Apr 2018, 4:18 AM PDT0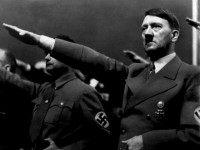 VARSOVIE, Poland — Two Holocaust survivors and a Polish anti-Nazi resistance fighter have filed a lawsuit against the publisher of books praising Nazi dictator Adolf Hitler in a civil case that the plaintiffs lawyers said on Monday is the first of its kind in Poland.
byBreitbart Jerusalem10 Apr 2018, 3:59 AM PDT0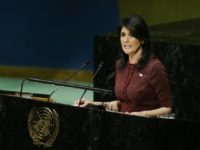 UNITED NATIONS — US Ambassador Nikki Haley on Monday urged the United Nations Security Council to act following the latest alleged chemical weapons attack in Syria, warning the United States was ready to respond.
byBreitbart Jerusalem10 Apr 2018, 3:12 AM PDT0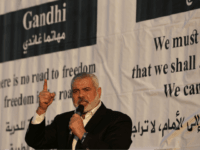 The protests along the border between the Gaza Strip and Israel will continue until they achieve their goals and the Palestinians return to all of Palestine, Hamas leader Ismail Haniyeh vowed on Monday.
byBreitbart Jerusalem10 Apr 2018, 1:49 AM PDT0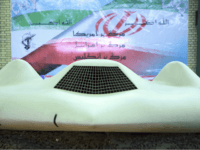 The target of an airstrike early Monday at the T-4 airbase in Syria was apparently an Iranian drone base.
byBreitbart Jerusalem10 Apr 2018, 12:58 AM PDT0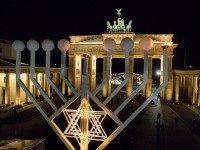 Germanys Homeland Ministry has said they agree with proposals from Jewish leaders to strip anti-Semitic migrants of their right to remain in the country.
byLiam Deacon10 Apr 2018, 12:47 AM PDT0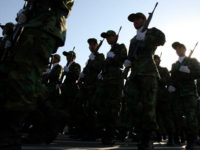 NEW YORK — The reported deaths of four Iranian "military advisers" killed in an airstrike in Syria spotlight Tehrans meddling in Syria in a clear attempt to extend its fundamentalist tentacles to Israels north and exert hegemony across the region.
byAaron Klein9 Apr 2018, 5:00 PM PDT0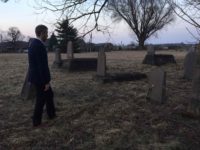 The story always suggested to me the idea that there might sometimes be a reason that bad things happen, though not apparent at the time.
byJoel B. Pollak9 Apr 2018, 2:33 PM PDT0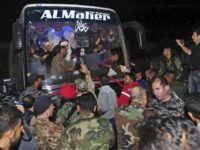 Israeli airstrikes again targeted an Iranian base in Syria that reportedly houses Russian troops, this time killing four members of Irans Revolutionary Guard Corps (IRGC), currently fighting on behalf of Syrian dictator Bashar al-Assad, Tehran confirmed on Monday.
byEdwin Mora9 Apr 2018, 1:30 PM PDT0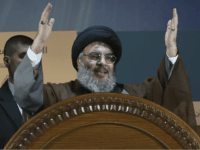 Hezbollah chief Sayyed Hassan Nasrallah claimed the United States, under former President George W. Bush, offered the Lebanon-based, Iran-backed Shiite terrorist group money to end its resistance movement against Israel.
byAdelle Nazarian9 Apr 2018, 1:06 PM PDT0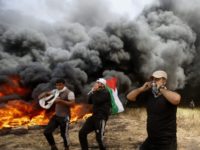 TEL AVIV – Palestinian Authority President Mahmoud Abbas senior adviser Mahmoud al-Habbash accused Hamas of sending Gazans to their death for the sole purpose of garnering headlines featuring "emotional stories of heroism."
byDeborah Danan9 Apr 2018, 9:33 AM PDT0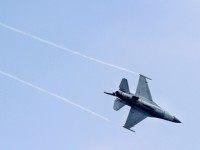 US officials have reportedly confirmed that Israel carried out a predawn missile strike on an air base in central Syria that reportedly killed 14 people on Monday, while Russia protested that it had not been informed ahead of time.
byBreitbart Jerusalem9 Apr 2018, 9:32 AM PDT0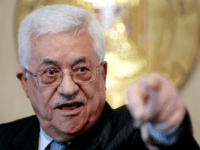 TEL AVIV – Palestinian Authority President Mahmoud Abbas will no longer be responsible for what happens in Gaza if Hamas continues to refuse to hand over full control of the coastal enclave and its weapons to the PA government, he said on Sunday.
byDeborah Danan9 Apr 2018, 9:31 AM PDT0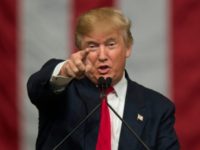 President Donald Trump condemned the reported chemical weapons attack in Syria, promising an administration response in the next 24-48 hours.
byCharlie Spiering9 Apr 2018, 9:01 AM PDT0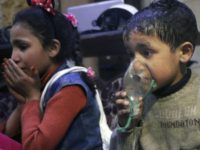 Contents: New chemical weapon attack in Syria kills 48, hospitalizes hundreds; Trump threatens big price to pay after Assads chemical weapons attack in Syria; Syria reports that its under missile attack, likely by the US
byJohn J. Xenakis9 Apr 2018, 6:15 AM PDT0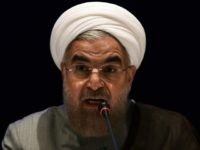 TEHRAN – Iranian President Hassan Rouhani said Monday that the United States would regret withdrawing from the nuclear deal, and that Iran would respond in "less than a week" if that happened.
byBreitbart Jerusalem9 Apr 2018, 2:54 AM PDT0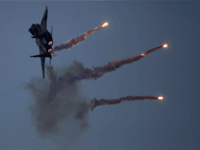 Syria and its Russian ally accused Israel on Monday of carrying out a deadly dawn bombing raid on a military airbase, as global outrage mounted over an alleged poison gas attack outside Damascus.
byBreitbart Jerusalem9 Apr 2018, 1:27 AM PDT0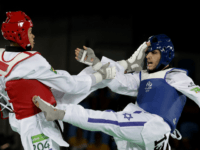 Israels Taekwondo Junior National Team was essentially banned from participating in the 2018 World Junior Championships, as well as trials for the upcoming Youth Olympic Games to be held in Argentina in October, after being denied entry permits by Tunisa, the host country.
byBreitbart Jerusalem9 Apr 2018, 1:07 AM PDT0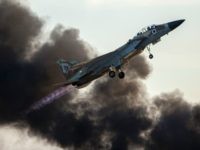 JERUSALEM – Israeli fighter jets targeted a Hamas "military target" in northern Gaza on Monday in response to Palestinians infiltrating the border and laying bombs the previous day, the army said.
byBreitbart Jerusalem9 Apr 2018, 12:36 AM PDT0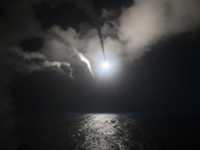 Missiles struck an air base in central Syria early Monday, its state-run news agency reported. Although the agency said it was likely "an American aggression," U.S. officials said the U.S. had not launched airstrikes on Syria.
byBreitbart Jerusalem8 Apr 2018, 7:58 PM PDT0